Committee of the Whole sees the council review everything from a Grade 6 class' request to recognize White Spruce as the town's official tree to population growth and bike paths
by Jessica Lee Mar 23, 2022 12:00 PM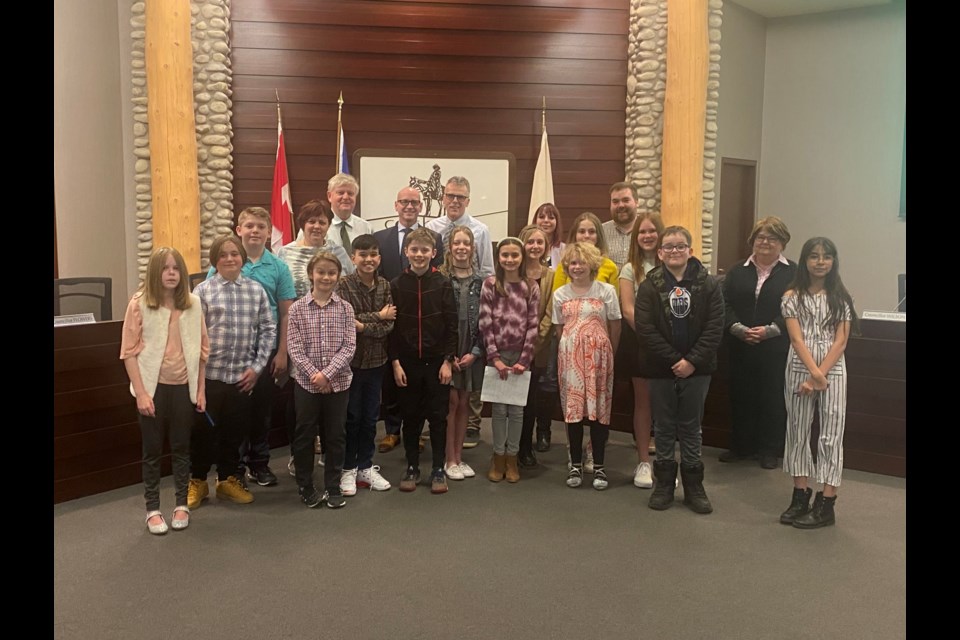 The Grade 6 class of RancheView School gave a presentation to the council March 21 about the importance of trees in the community at a committee of the whole meeting. (Town of Cochrane)
Listen to this article00:06:03
The Grade 6 class of RancheView School presented to the council, under the leadership of their teacher Mr. Bill Belsey, about the importance of trees in the community in a March 21 Committee of the Whole meeting. 
In their presentation, they asked the council to map out areas where students can plant trees near or on the school grounds and that council consider declaring the White Spruce as Cochrane's official tree because of the popular 300-year-old 'Grandfather Tree' of the same variety at Cochrane Ranche.
The Grade 6 class also seeks to declare the first Saturday in June as Arbor Day in Cochrane and hopes the council will consider writing a letter of support to Prime Minister Justin Trudeau to create a National Arbor Day. 
Mayor Jeff Genung said he was impressed with the class's presentation and forward-thinking mentality.
"The asks that you have before us are I think very timely," he said, citing the trees being taken down along Cochrane Ranche where the highway is being widened.
"We were talking about what do we do and how can we replace trees like that. So, you've brought forward a solution to that for us that we can utilize."
Whether the class can plant trees on the grounds of RancheView school would be a decision for Rocky View Schools to make, however, explained Genung. Though, they could consider mapping out areas in public parks and spaces for the class initiative
"As much as I learned some great things about trees, it was also just great to be reminded of how important and energized our youth are," added Coun. Tara McFadden.
Council received the presentation as information and expects a decision at a future meeting.